Working Toward Abolition…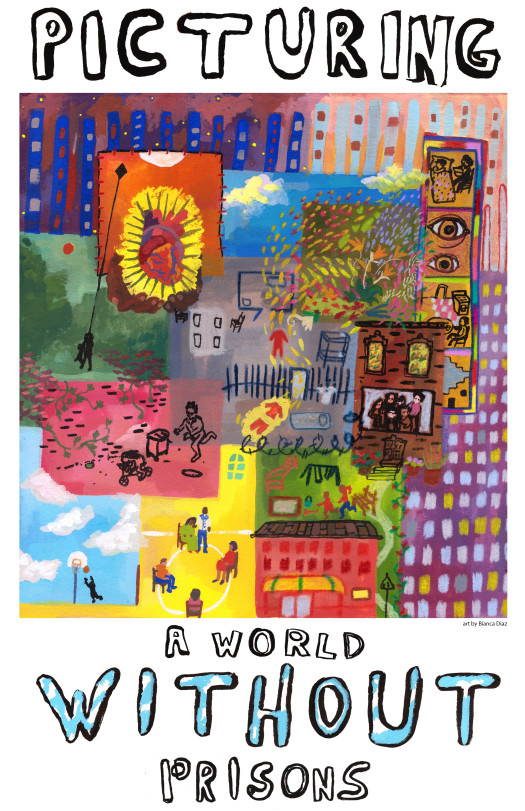 by Bianca Diaz
In 2015, it is hard to imagine an institution more harmful than a prison. With daily reports of sexual assaults by correctional staff, hunger strikes by those opposing long-term solitary confinement, and many deaths in custody, prisons perpetuate violence and are antithetical to public safety.
In 2003, activist and scholar Angela Davis suggested that "our most difficult and urgent challenge to date is that of creatively exploring new terrains of justice where the prison no longer serves as our major anchor." Twelve years later, her admonition is more urgent and relevant than ever. With the largest prison population on the planet—some 2.2 million people locked up and millions more under correctional supervision—politicians from Newt Gingrich to Hillary Clinton are rhetorically embracing the idea that mass incarceration is a national problem. Far fewer people, however, are ready to declare that prisons are fundamentally destructive and beyond reform. Both statements are true. As such, it is incumbent on all of us to collectively reimagine and build a viable and humane way to address our social problems beyond the endless cages. For these reasons and more, I am a prison abolitionist.
Yes, some individuals in prison have caused great harm to people and to communities. This cannot be minimized. That's precisely why I am so passionate about the need to create community-based structures to address harm and to mediate conflicts. As a survivor of violence, I want safer communities. Importantly, most people who do harm will never be imprisoned. Building community-based structures will allow us to focus on harms that our current systems of policing and punishment ignore, neglect, or are unable to resolve.
From Ferguson to Baltimore, from Rikers Island to Guantánamo Bay, our prison nation ensures expensive and profound precarity and violence. Yet the current interventions posited as "alternatives to incarceration"—including drug-treatment programs, boot camps, community-based supervision or probation, electronic monitoring, and community service—still depend on carceral logics of surveillance, containment, and sometimes punishment. We must create new forms of justice defined by principles of respect, interrelatedness, and mutuality, and we need to ask: Are prisons obsolete?
Obviously, abolishing prisons is not something that will be accomplished easily, but we do have a growing community-accountability movement we can build on. Organizations and groups like Critical Resistance, Black & Pink, We Charge Genocide, Common Justice, the Audre Lorde Project, and my own organization, Project NIA, among many others, are practicing abolition every day. We are doing so by creating local projects and initiatives that offer alternative ideas and structures for mediating conflicts and addressing harms without relying on police or prisons.
When I speak of abolition, I don't demand the immediate closing of all prisons (though we can certainly accelerate the process of decarceration through, for example, abolishing cash bail). The abolitionists I know understand that as a society we will always need to ensure accountability for people who repeatedly cause harm. Part of our work, then, must be to create the conditions necessary to ensure the possibility of a world without prisons.
Scholar-activist Ruthie Gilmore has defined abolition as "a movement to end systemic violence, including the interpersonal vulnerabilities and displacements that keep the system going." Practically, that looks like "creating structures that reduce the demand and need for prisons," as my friend and colleague Erica Meiners has written. She adds: "It is ensuring that communities have viable, at least living-wage, jobs that are not dehumanizing. It means establishing mechanisms for alternative dispute resolution and other processes that address conflict or harm with mediation. It means ensuring that our most vulnerable populations, for example those who are mentally ill or undereducated, do not get warehoused in our prisons and jails because of the failure of other institutions such as health care and education."
As there is no blueprint for abolition, we must spend time imagining, strategizing, and practicing other futures. In my work this encompasses many facets: We organize and mobilize to address the root causes of oppression and violence. We test the limits of our imagination of what's possible in terms of addressing violence and harm. We creatively rethink our current structures of policing and warehousing individuals. We expose the brutality and abject failure of the current system. We foreground a revolutionary transformation of ideas while demanding that our resources be radically reallocated. Collectively envisioned and determined, abolition will look different from one community to the next. There are many vexing questions and unknowns to puzzle through, but we can do this together. We must, we will, and we are.
Source: http://www.usprisonculture.com/blog/2015/10/05/working-toward-abolition/