Michael Gove announces plans for 'reform prisons'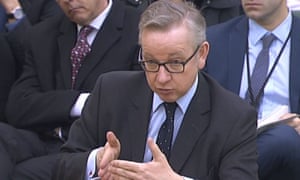 A new bill is to pave the way for "reform prisons" modelled on academy schools, with league tables and provision for failing jails to be taken over by more successful prisons, the justice secretary, Michael Gove, has told MPs.
He also indicated that he was looking at the 50-year-old system of categorising prisoners, and considering introducing a Germany-style system of separate dedicated prisons for remand and convicted inmates so that inmates once sentenced could serve their term in a single jail.
Gove admitted that "we do have a problem with crowding in some jails" but insisted it was not extreme and pointed out that some prisons did well despite capacity problems.
Appearing before the House of Commons justice select committee, Gove confirmed he had no intention of introducing "artificial" changes to sentencing policy to reduce the record 85,000 prison population in England and Wales. Instead, he expressed the hope that it could be brought down by reducing reoffending rates.
The justice secretary confirmed he would press ahead with the closure and sale of the sites of inner city Victorian jails but said he was unable to name any of the candidates at this stage beyond the already-announced closure of Holloway women's prison in London this summer. The nine new jails to be built under this programme will be on sites outside city centres.
Gove, who visited Germany earlier this week, said he had been impressed by one new prison for sentenced prisoners he had seen outside Berlin in which every prisoner had their ownroom. He told MPs it would ideal if every prisoner had their own cell in prisons in England and Wales but conceded that "we are very far from that".
A draft prison reform bill to be introduced in next month's Queen's speech on 18 May will set out the legal framework for new prisons with strong governors and a degree of autonomy over budgets and the deployment of staff. The bill will also include powers for "reform prisons" to take over nearby failing jails on the same model as the development of school academy chains.
The former education secretary said his experience in government had taught him that progress was rarely made without performance statistics and so he was developing a new system of league tables.
He said he would consult governors shortly on the yardsticks to be used but one key "dipstick" measure would be the time spent by prisoners out of their cells, with targets such as reducing smuggled contraband included as well.
He suggested that if governors missed these targets they might be "managed out" or stronger jails could act as "improvement partners" and in some cases could be run by a stronger reform prison along the lines of chains of academy schools.