Inmate dies in apparent overdose after calls for help allegedly ignored
More deaths in prison..
Source: https://www.theguardian.com/society/2016/jul/22/natasha-chin-dies-bronzefield-prison-sodexo
Natasha Chin, 41, had allegedly been ringing her alarm bell at Sodexo-run Bronzefield prison for over two hours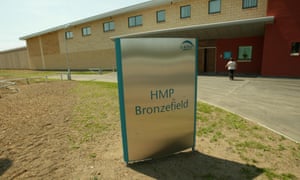 A prisoner who died after apparently overdosing on prescription medicines had allegedly been ringing her cell alarm bell for more than two hours with no response, the Guardian has learned.
Staff who eventually responded found Natasha Chin, 41, dead in her cell in Bronzefield prison, Surrey, on Tuesday evening. Inmates at the jail, run by Sodexo, said she had been ringing her alarm bell and calling for help for two-and-a-half hours.
CPR was attempted, but Chin was pronounced dead at 10.40pm. She was recovering from a major operation and is believed to have taken prescription medicines to aid her recuperation. She was released from prison in April, but had been recalled to prison three days before her death. Sodexo would not say whether she was on an "at risk" register.
This week Peter Clarke, the chief inspector of prisons, said prisons needed to be made safer, and too many had become unacceptably violent and dangerous places, putting at risk the government's programme of reforms.
In 2014-15 there were 191 incidents of self-harm per 100 female prisoners, and 30% of women self-harmed, compared to 10% of men in prison, according to official figures (pdf). In all there were 7,415 incidents of self-harm by women in prison, an increase of 11% on the previous year.
Bronzefield is by far the most expensive women's prison in England and Wales, Ministry of Justice figures show. The MoJ pays Sodexo £64,445 per inmate per year. The next most expensive women's prison is Low Newton, Durham, at £36,036 per prisoner per year. When the figures were published, the MoJ said the Bronzefield costs were not comparable with other jails because they included private finance initiative costs, negotiated in 2002.
Deborah Coles, co-director of the charity Inquest, which supports and advises those bereaved by deaths in custody, said: "Bronzefield is a private prison, being paid vast amounts of public money. The new justice secretary should visit the prison and ask questions as to why they are seemingly incapable of keeping women safe."
Alex Cavendish, an academic and former prisoner who blogs on prison issues at Prison UK: An Insider's View, said: "Too many prisoners are dying in custody. As repeated inquests have found, a significant proportion of these deaths might have been avoided if appropriate care – including mental health support – had been in place and proper assessment procedures followed.
"Based on the information that I've received, this tragic death at HMP Bronzefield raises very serious questions about monitoring and supervision of vulnerable women, as well as concerns over the response times when cell alarms are sounded by prisoners in distress."
A Sodexo spokesperson said: "We can confirm there was a death in custody at HMP Bronzefield on the evening of 19 July. Deaths in custody are a tragedy. The next of kin have been informed and our thoughts are with the family. As with all deaths in custody there will be an investigation by the police and the prisons and probation ombudsman and therefore we are unable to comment further at this stage."