Troubled history of Peterhead jail from 'hate factory' to health fears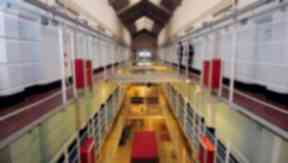 After over a century of incarceration, Scotland's most notorious prison is still rattling cages.
Once known as the country's hardest lock-up, the Peterhead jail was partly demolished in 2012 to make way for the new HMP Grampian, a £140m "super-jail" that promised to draw a line under the riots and hostage-takings that swept the prison during the 1980s.
After councillors unanimously backed development plans, the new facility saw prisoners from HMP Aberdeen and HMP Peterhead under one roof, in Scotland's first community prison for offenders of all ages.
The 'hate factory'
The prison was built on the Buchan coast in 1888 designed to house 208 prisoners.

The aim was to provide workers for the quarries supplying granite to Peterhead's harbour.
Prisoners would be punished with a number of devices including cat-o'-nine-tails and birch rods, while the prison officers carried cutlasses.

Conditions were poor in the early 1900s. It was cramped, cold with winds from the North Sea and had outdated sanitation – the practice of emptying out waste buckets ended in Scottish prisons in 2007, apart from Peterhead where chemical toilets were used.
Riots began in 1986, which saw 15 prison officers assaulted, one of whom was taken hostage for four days.
More than £250,000 of damage was caused when prisoners set fire to A-hall during the riot.
Less than a year later 50 inmates rioted again, taking two officers hostage who were humiliated and beaten. One of the officers was paraded on the roof.
Prisoners were about to set fire to one of the officers when the SAS arrived, sent by Prime Minister Margaret Thatcher.
Riot gear was the standard clothing for prison officers when Andrew Coyle was made governor of the prison in 1988.
During his time in office, all sex offenders were transferred to Peterhead incrementally. The facility gained expertise in the treatment of sex offenders, which ultimately saved it from the threat of closure in 2002.
Sex offenders were removed in 2011 and the decision was made to built a new "community-facing" facility.
Craiginches (HMP Aberdeen)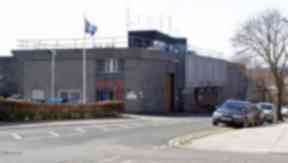 The Victorian prison was built in 1890 and closed January 10, 2014. It was once one of the most overcrowded prisons in Scotland.
The last man to be hanged for murder in Scotland lay buried here. Henry John Burnett was buried in the grounds of the prison after he was executed at Craiginches on 15 August, 1963, following his conviction for the murder of his lover's sailor husband, Thomas Guyan.
In 2009 it was revealed that two thirds of the inmates freed from Aberdeen prison tested positive for illegal drugs because of the flourishing narcotics trade behind bars.
In March 2013 prisoners were given new mattresses and duvets six months before the facility was due to shut after they threatened to protest.
Demolition began on January 9, 2015.
Making headlines
March 3, 2014: The new prison admits its first inmates.
May, 2014: Prisoners caused more than £145,000 worth of damage during a 13-hour riot.
December 17, 2014: A total of 292 complaints were filed by prisoners since the jail opened – inmates complained about food, laundry and the gym facilities.
That same month it was revealed prisoners had more spent on their Christmas dinners than NHS patients. The HMP Grampian menu included chicken Balmoral and mushroom, brie and hazelnut Wellington, while hospital patients had steak pie and nut roast.
May 18, 2015: The new jail is branded a "white elephant" after it emerged the flagship prison is only half-full of prisoners.
May 10, 2016: No young men are being held at HMP Grampian. Figures obtained by STV News under freedom of information legislation show the prison's population dropped significantly after the incident in May 2014, when 41 prisoners caused £145,000 worth of damage to the jail.
May 11, 2016: Prison inspectors raised serious concerns about mental health treatment of inmates at the facility.